I'm in Minot, ND right now.
Yesterday I broke a spoke in Minnewaukan--just 2 days after I broke 2 spokes, hitchhiked 40 miles, and was barely able to get my wheel true.
The spoke I broke snapped at the elbow. It wasn't caused by a bump in the road, but it occurred while rounding a turn at ~4 mph. This, I've learned, indicates it broke due to a shift in weight.
Minnewaukan was before a 40 mile stretch without services. I stopped in at the Bait & Tackle store (the *only* open store in Minnewaukan), pulled out my map, and started making phone calls.
The nearest bike shop was in Minot, ND--about 100 miles away. After that, there was nothing. I called Minot's bike shop, Val's Cyclery, and I got ahold of Rocky. He informed me the shop wasn't open. They were hit hard by the flood & the whole store was being gutted. Still, Rocky gave his brother/co-owner, Rory, a call about my situation.
While I sat waiting for a call back from Rory, I munched on some potato chips (the best high-calorie/vegan item I could buy) while texting google & searching my map for the best solution to my POS rear wheel.
The Northern Tier through North Dakota is spotted with 40 mile stretches of no services. This means, most importantly, no water fill-ups. The flooding has created detours which, so I've heard, has 60 mile stretches of no services. And Montana is *even* *more* spread out.
I decided then and there that I have no choice; I had to buy a new wheel.
Rory gave me a call. I told him my situation, "I'm biking cross-country, I'm popping spokes left & right, my rim is warped to shit, and I don't think I'm going to make it to Seattle without a new wheel." I told him I needed a double-walled, 700c touring wheel for a 9-sprocket cassette, 36 DT spokes (reinforced with eyelets), hand built, and compatible with a 6-bolt brake rotor.
Rory knew exactly what was up. Touring is a bit of a specialty it seems, but this shop *knows* touring. He told me he wouldn't have access to his stock due to the flood, but that he could order it on Monday (we spoke on Saturday) and he could get it in by Tuesday. Realizing that was my only option, I told him OK. With that, I filled up 6 bottles of water, made a few pounds of rice, and started walking my bike towards Minot with my thumb held high.
It took a while, but eventually I got a ride to highway 2. I got a ride to Leeds. And, thankfully, I got a ride to Minot. There's definitely something to be said about the hospitality of the driver's out here. Thanks so much for your help!
When we arrived in Minot we called Rory for flood/detour-specific directions, the final of which were, "turn right on 3rd and drive until you reach the yellow caution tape." When we saw the yellow caution tape, we saw the streets crawling with the National Guard. Water was draining from everywhere; the streets were covered in mud. Many houses in the area were still flooded.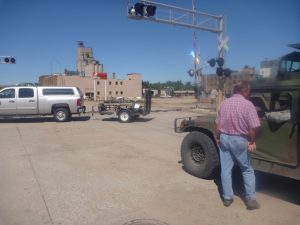 As we were unloading my bike from the trailer, someone who recognized me as "the tourist with the spoke issue" informed us that Rory was at the landfill.
I loaded my bike, locked it to a street sign, and curiously admired the scene. The street was still flooded just a block away from the bike shop. The inside was a mess; the whole place smelt like sewage with all sorts of bicycle components, tools, and water-swollen building materials littering the floor. The streets seemed like a war zone, with humvees carrying troops from the National Guard back & forth, people shouting, confusion, and destruction everywhere.
A black pickup carrying a dumptruck hitch rolled by. The driver whistled (someone told me it was Rory). Everyone (wearing dust masks & gloves) started filling the bed full of trashcans of ripped-up floor tiles.
Just a few hours earlier I was 100 miles east, walking my broken bicycle through endless wheat fields. Now I found myself in the middle of a disaster-ridden city. I shrugged. I could see my help was needed, so I grabbed a dust mask, asked for a pair of gloves, and helped clear the building.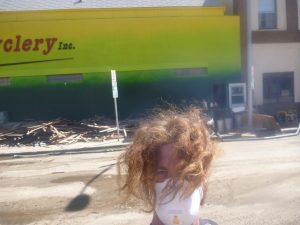 A few hours later Rory and I finally met. The confusion calmed a bit, and we both worked to replace my spoke. He trued my wheel & assured me that it needed to be replaced.
I asked for a recommendation on a place to stay, and Rory & his wife offered me a spot in their house.
I'm currently writing this post from Rory's kitchen. I could not be more thankful to him & his family for their generous hospitality in hosting me through my troubles. Thank you!
Today is Sunday. I spent another day with him, his family, co-workers, friends, and contractors working demolition at his bike shop. Tomorrow is more of the same. And hopefully the next day (Tuesday) I'll be back on my bike with a new, solid rear wheel--continuing my journey west to Seattle.
Related Posts