On May 28th, I dipped my rear bicycle tire in the Atlantic Ocean at Bar Harbor, Maine.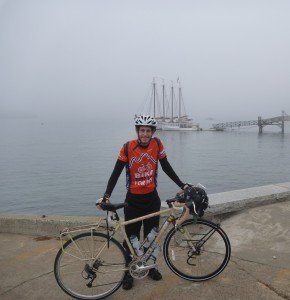 On August 8th, (78 days later) I dipped my front tire in the Puget Sound at Everett, Washington.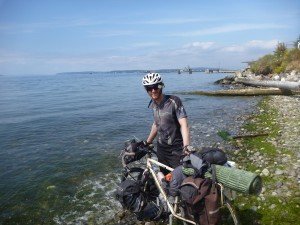 While this trip has been one of the most valuable experiences in my life, it's also been a long, hard journey. I am infinitely grateful for my family, friends, and to the scores of strangers who helped me along my way. And, of course, to my donors--helping to make this world a better place for those with Multiple Sclerosis. Thank you!
After leaving Missoula, I took it relatively slow on my way into Idaho (it was my birthday gift to myself). On August 4th, I climbed Thompson Pass into Murray, ID. That night I met up with the Coeur D'Alene bicycle trail in Kingston, ID.
On August 5th, I woke up just after 04:00, and hit the road just as the sun was rising. That day I rode 80.34 miles to Spokane, Washington by 15:30. I took a long break, called some family, and rode another 20 miles before the sunlight was completely extinguished.
I rode 102.02 miles on August 5th.
I rode 100.25 miles on August 6th.
I rode 102.49 miles on August 7th.
I rode ~80 miles on August 8th.
This was, by far, the most miles I've ever covered in 4 days by bicycle. When I finally dipped my tire in the Puget Sound, my back was aching, my knees were buckling, and several parts of my body were badly chafed.
I rode highway 2 all the way to the its end in Everett, WA. I dipped my tire, got a local reading on the beach to take my victory photo, and hopped a bus down to visit my buddy Brian K in Seattle before his flight home.
That night and the following day I stayed in Bar Harbor with family. I spent another 2 days in Seattle. After sightseeing, I boxed & shipped my gear & bicycle home, and I caught a flight back to the east coast.
Here's the photos I took in North Dakota.
Here's the *first half* of the photos I took in Montana.
Here's the *second half* of the photos I took in Montana.
Here's the photos I took in Idaho.
And, finally, here's my photos from Washington.

Be sure to checkout my photos section to see all the photos I took from both my trips in 2010 (Savannah, GA to San Francisco, CA) and 2011 (Bar Harbor, Maine to Seattle, Washington).
Also, HD vids 😀
Related Posts