Yesterday I rode 120 miles, riding a sick tail wind into Malta, MT.
Just as I was getting into town (~118 mi in), I had my first flat of the tour. The unlucky happening is that this flat occurred in Malta--an area the locals tell me is the mosquito capital of the world. I don't know about mosquitoes, but as I struggled to change my tube, I was getting swarmed by gnats. The next morning, sure enough, I was covered in bug bites.
I changed my tube to a spare, but could hardly get much pressure in it using my emergency hand pump (this is the first time I've actually used it on the road iirc). I gently rolled ~0.5mi to a gas station & filled it with air, but as I turned back towards the city park to setup camp, I found myself rolling on the rim in < 0.3 miles, stuck on a bridge! Not about ready to hurt by new rear rim, I carried my fully-loaded bicycle off the bridge over my shoulder to a nearby motel (this is an amazing feat; I didn't think I could do it). I stuck out my thumb & got a ride to the city park just a couple blocks away.
In my tent, I discovered the culprit of my flats: a tiny metal staple that managed to break through my thick, supposedly puncture-proof tires.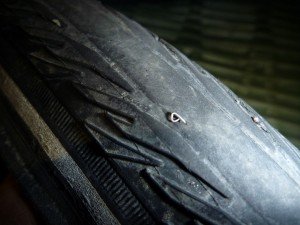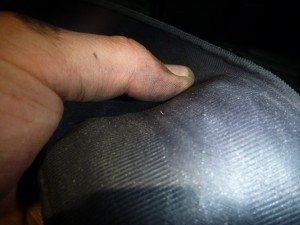 The lucky happening is that I ordered a new tire & tube to be shipped to Malta, MT when I was back in St Paul, MN. So, the next morning I woke up a little late & camped outside the USPS until 9am. It was like Christmas morning. I opened 3 lovely packages & 1 envelope consisting of: a new tire, tube, a 4-size spoke wrench tool, J.A. Stein mini cassette tool, an external hdd, chamois cream & a new pair of sunglasses (that isn't held together/lenses blurred with super glue).
So, with self-gifts in hand, I rolled to the gas station, installed a fresh tire & new tube on my rear wheel, and went grocery shopping.
Everyone in the town kept telling me it was going to break 100 deg & I knew I was in need of another spare tube & tire + sunscreen, so I evaded the heat for a bit in the library. By the time I had ordered what I needed, it was already 4PM. With a potentially unsafe reservation ahead of me, the locals helped me decide to spend another night in Malta.
Related Posts