I'm in Sheyenne, ND. I've been anticipating an amazon order shipped to the local USPS in this town for days, but when I arrived the postmaster told me he *just* gave it back for return delivery to the UPS truck a few hours earlier: "sorry, I held it for 3 days as a courtesy." (every other USPS that I've dealt with shipping via General Delivery holds packages for 30 days--it didn't even cross my mind that he would ship it back to Amazon. Exhausted both physically and emotionally, I asked for Internet access to resolve this situation. I was directed to an old school, where I've been permitted to crash for the night. This place is awesome. There's a huge gym with showers, plenty of couches, and (best of all) Internet!
Which brings me to the more important update: Yep, I'm solo (again). Sorry for the lack of update. Ever since the Twin Cities, I've been self-supported. This drastic, unanticipated change required a lot of sudden planning which pushed my blogging down my list of priorities.
Brandon (one of the cross-country cyclists with whom I was previously riding) graciously let me stay in his house for the 2 days I was in St Paul, MN. When I arrived, only 1 of my 4 panniers from last year was working. My 2 front panniers were both broken (hooks pulled through the cheap fabric), and I left my other rear pannier back in Atlanta.
The day I was riding into St Paul (my mind racing--trying to think of everything I needed to get myself safely to Seattle, alone), I ran out of gas on the road, took the next exit, and searched (as usual) for a place with a spicket and a shaded bench. I found a Dairy Queen. While searching for a spicket, I ran into a DQ employee tossing an empty tub of used-to-be 30lb of strawberry topping. In my eyes, that tub & the piece of wood I picked up off the side of the road earlier that day had my rear-right pannier written all over it. Epic score. He rinsed it out, and I strapped it to my bike.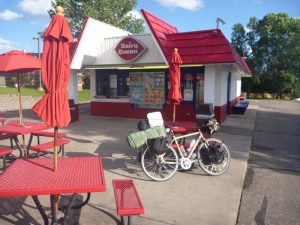 The next morning (in St Paul), I went down my extensive TODO list. I hit up the local library & Hardware Hanks. I looked up several DIY Kitty Litter Panniers to get an idea of what to buy at the hardware store to build my new pannier & fix my other 2. On the afternoon of my second rest day in St Paul, with the aid of the internet, Brandon's Drill, pliers, and a bit of creativity, Jamie was once again fully loaded, and we were ready (mostly) to take on the next 2,000 miles to Seattle.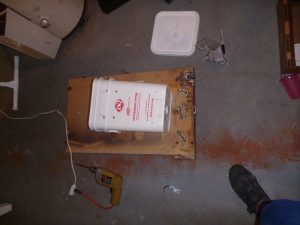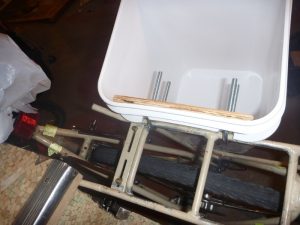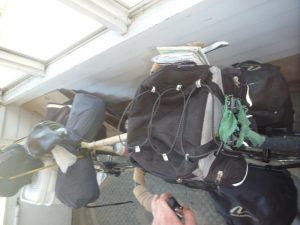 I was also able to fabricate (using corner mounting brackets for shelving units, bolts, washers, nuts, and a bit of the wood I found on the road) bomb-proof spare hooks for my front panniers should the others rip through the fabric as well (I had to use 1 of these just the other day, actually).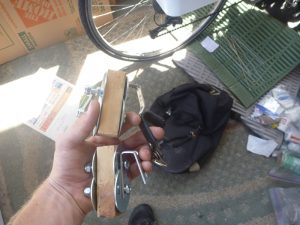 I shipped 13lb of gear back home, but the added weight on my rear rack (>30lb) would add *even more* stress to my rear wheel, which was already breaking a few spokes / week. I learned how to replace a broken spoke & true the wheel just a couple weeks ago, but I didn't (and still don't) have the tools necessary. I went to the LBS recommended by Brandon (NOW). They gave me some expert advise. Turns out my spokes *are* generic crap. They recommended & carried DT Swiss (I'll swear by the MAC spokes that came with the Sojourn). I bought 6 DT spokes and a set of tire levers (I broke mine a couple days before).
Looking at my chain, they pointed out that it was well beyond its lifetime (I expected this). Looking further at my drivetrain, we noticed a few of the rear cassette's sprockets had ground down teeth. Not looking to spend $150, I decided to leave it be. I already have a spare chain, and I'll ride my cassette as long as I can. I think that, because I ride my shifters in friction (as opposed to indexed), a worn cassette isn't as big of a deal. We'll see, but I'm expecting to get at least another 1,000 if not 2,000 miles out of these components.
I headed back to the library and ordered all the remaining gear I needed to ride self supported. I bought a small, brilliant J.A. Stein Mini Casette Tool, 3 size all-in-one spoke wrench, a spare tire, tube, chamois butt'r, sunglasses, and an external HDD (anticipating less Internets). My first packages of this order were *supposed* to be in this town (Sheyenne). And they were, until 12:30 PM this afternoon >:0
Anyway, I'm off to take a shower (last night I had to hitchhike & fix 2 broken spokes, so I didn't get into the tent until ~23:00; the shower skipped). Then it's dinner (typically ~9.5 servings of rice & beans) and bed. I'll try to upload some of my photos & videos through the night, but I'm not 100% positive I'll have the time.
Related Posts