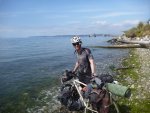 On May 28th, I dipped my rear bicycle tire in the Atlantic Ocean at Bar Harbor, Maine.
On August 8th, (78 days later) I dipped my front tire in the Puget Sound at Everett, Washington.
While this trip has been one of the most valuable experiences in my life, it's also been a . . . → Read More: I made it!